(Shyamsundar Turaga)
The monsoon is savagely building to a peak, and this is the just time to explore the magnificent Dudhsagar Falls on the Goa-Karnataka border. Three rail fanners took, quite literally, the railroad that was less travelled to explore. For those unfamiliar with rail fanners, it is said "they are those who watches trains and railways like what birdwatchers are to birds". They are enchanted with the minutes details of the railway — from locomotives, stations and carriages to rakes, signals, cabooses…etc  you name anything.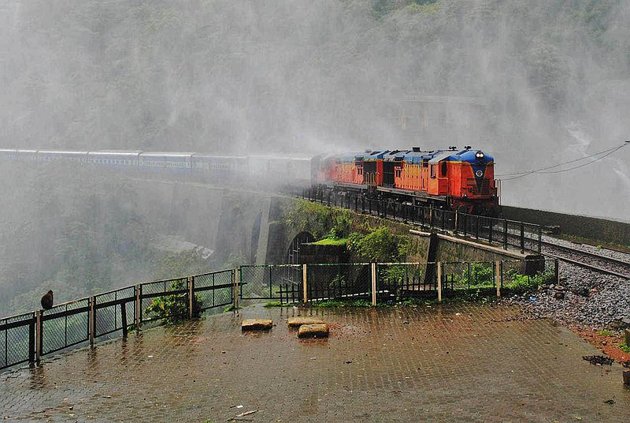 Over three days, these intrepid enthusiasts planned a unique "trek" to Dudhsagar Falls that situated in the Western Ghats. All the three met at Hubli, Karnataka and boarded Haripriya Express proceeding to Londa, and then at Londa they hailed an auto-rickshaw to Castle Rock. From there they trekked along the jungle-fringed track, braving wild lashesof monsoon downpours, to Caranzol.
The weather being unkind, they were advised by the station master to head back to Castle Rock or Londa for the night. On the second day, the enthusiasts went to Dudhsagar and spent the full day at the falls, indulging in their usual passion of train spotting. They returned home the next day after taking a number of exciting and splendid images. These images, shot by the rail fanning trio of HARISH KUMAR, RAGHUPATHY JAYARAMAN and BEN HUR, capture some of the excitement of an unforgettable monsoon trek along the railway.
Now one can view those splendid pictures arranged in a row to behold and enjoy by all those who wish to look. Here we go.
Dudhsagar Falls is a tiered waterfall located on the Mandovi River in the state of Goa, India, on Goa's border with the state of Karnataka. It is 60 km from Panaji.
Legend has it that a beautiful princess lived in the forest (near present day, Dudhsagar Falls) where there was then a palace. She loved and enjoyed bathing in a lake nearby and used to drink "sweetened milk" from her "Golden Jug" after finishing with her bath. One day while enjoying her jug of milk she found herself being watched by a prince, who was standing amongst the trees. Red with embarrassment at her inadequate bathing attire, she poured the Jug of milk in front of her to form an improvised curtain to hide her body, while the maids rushed to cover her with her dress.
And it is said that, it is that sweetened milk that cascades down the mountain slope to this day as tribute to the virtue and modesty of the Princess, as the "Dudhsagar Falls".