(Online Research Desk)
It's not only disgusting, but absurd to watch the slugfest over the Kerala floods, which claimed over 239 deaths and caused irreparable damage.
Instead of praising the efforts of the Indian army, airforce and navy untiring efforts in rescue and rehabilitation operations, risking their own lives, shameless politicians in a bid to defame the NDA government at the Centre, raises the bogie of 'foreign assistance' which on paper appears to more than what the former (Centre) had offered.
The below data exposes the Congress, which boasts of not only attained independence single handedly, but also ruled over six long decades, and later it headed or supported UPA-I & II governments have provided assistance to sunch unforseen tragedies being encountered by the states.
Here is the data of the Central aid given in the past since 2—4 is given for netizen's benefit to call the bluff of both the LDF-led Kerala government as well the 'liers brigade' of the Congress, who lost their scripts to win any future elections.
 —
Year           Calamity        Deaths        Economic loss     Central aid
                                                                  (Rs crore)          (Rs crore)
2004           Tsunami         10,794         10,000                     500
2005           Maharashtra 1,094           6,000                       700
2008           Bihar                 527               880                    1,000
2009           Andhra            300            12,225                  1,000
2010           Leh                  257                                              125
2013           Uttarakhand 4,094           3,000                   1,000
2014           J&K                 280            50,000                   1,000
2018           Kerala            231            21,000                   600 (first aid)
 —
The above data clearly reflects that the deaths and economic loss of Kerala floods are comparatively insignificant to Uttarkhand floods in 2013 or others since 2004.
It is quite common practice for the State Governments to project very high estimates of aid required on the outbreak of disaster with a view to get maximum allocation which is used for diverting aid funds to fill the coffers of power-wielders and power-brokers.
There is laid down procedure that is followed to provide Central Government aid in case of natural disasters.
A Central Team will visit to physically verify the extent of damage and destruction to finally recommend the financial aid to be given by the Central Govt.
Also, there is laid down procedure to receive all aid/assistance from International Organizations like the UN Disaster Agencies, Red Cross and others besides aid from foreign nations.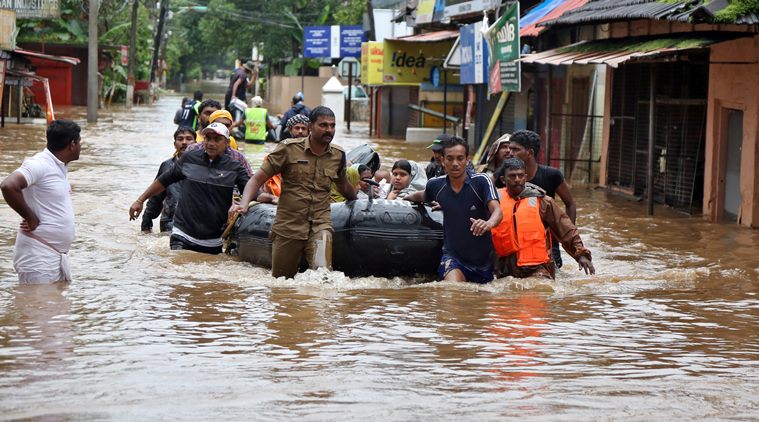 Surely, all such foreign funding cannot be allowed to fill the coffers of vested interest groups.
Thus, the raging political controversy and the cacophony on the visual media are primarily intended to cover up "poor governance" or failure to implement pro-active disaster mitigation measures.
Already the Kerala Government is blaming the neighboring Tamil Nadu government for releasing the flood waters.
In other words, the controversy over Central and foreign agencies financial aid and the blame games on neighboring state are just meant to divert the attention of people to cover up the ruling party failures.