(Shyamsudar Turaga)
Bonsai (plantings in tray, from bon, a tray or low-sided pot and sai, a planting or plantings)  is a Japanese art form using miniature trees grown in containers. Similar practices exist in other cultures, including the Chinese tradition of penjing from which the art originated, and the miniature living landscapes of Vietnamese hòn non bộ. The Japanese tradition dates back over a thousand years, and has its own aesthetics and terminology.
"Bonsai" is a Japanese pronunciation of the earlier Chinese term penzai. A "bon" is a tray-like pot typically used in bonsai culture. The word bonsai is often used in English as an umbrella term for all miniature trees in containers or pots, but in this article the focus is on bonsai as defined in the Japanese tradition.
The main objective of bonsai is primarily satisfied observation of the viewer and the pleasant delight of effort and ingenuity of the grower as well. In contradiction to the regular plant cultivation practices, bonsai is not intended for production of food, for medicine, or for creating yard-size or park-size gardens or landscapes. Instead, bonsai practice focuses on long-term cultivation and shaping of one or more small trees growing in a container.
A bonsai is created beginning with a specimen of source material. This may be a cutting, seedling, or small tree of a species suitable for bonsai development. Bonsai can be created from nearly any perennial woody-stemmed tree or shrub species[4] that produces true branches and can be cultivated to remain dwarf by means of pot confinement with crown and root pruning. Some species are popular as bonsai material because they have characteristics, such as small leaves or needles that make them appropriate for the compact visual scope of bonsai.
The source specimen is shaped to be relatively small and to meet the aesthetic standards of bonsai. When the specimen subjected to bonsai technique reaches its planned final size then it is planted in a display pot, usually one designed for bonsai display in one of a few accepted shapes and proportions. From that point forward, its growth is restricted by the pot environment. Throughout the year, the bonsai is shaped to limit growth, redistribute foliar vigour to areas requiring further development, and meet the artist's detailed design.
The practice of bonsai is sometimes confused with dwarfing, but dwarfing generally refers to research, discovery, or creation of plant cultivars that are permanent, genetic miniatures of existing species. Bonsai does not require genetically dwarfed trees, but rather depends on growing small trees from regular stock and seeds. Bonsai uses cultivation techniques like pruning, root reduction, potting, defoliation, and grafting to produce small trees that mimic the shape and style of mature, full-size trees.
History, the concept and early versions: The lineage of bonsai derives from the Chinese penjing. Imperial embassy personnel and Buddhist students from Japan had been returning from mainland China with many souvenirs, including occasional container planting, since 6th century. At least 17 diplomatic missions were specifically sent from Japan to the Tang court between the years 603 and 839.  From about the year 970 comes the first lengthy work of fiction in Japanese, Utsubo Monogatari (The Tale of the Hollow Tree), which includes this passage: "A tree that is left growing in its natural state is a crude thing. It is only when it is kept close to human beings who fashion it with loving care that its shape and style acquire the ability to move one." The idea, therefore, was already established by this time that natural beauty becomes true beauty only when modified in accordance with a human ideal.
Saigyo Monogatari Emaki is a noted figure in Japan and was the earliest one to scroll to depict dwarfed potted trees. It dates from the year 1195. Wooden tray and dish-like pots with dwarf landscapes on modern-looking wooden shelf/benches are shown in the 1309 Kasuga-gongen-genki scroll. These novelties show off the owner's wealth and were probably exotics imported from China.
The extended invasion of the Mongol reign into China has created facilities to many artists and intellectuals in Japan so that they can comfortably live and actively study the Song dynasty culture. Chinese Chan Buddhist monks came over to teach at monasteries, and one of the monks' activities was to introduce political leaders of the day to the various arts of miniature landscapes as ideal accomplishments for men of taste and learning.
The c.1300 rhymed prose essay, Bonseki no Fu (Tribute to Bonseki) written by celebrated priest and master of Chinese poetry, Kokan Shiren (1278–1346), outlined the aesthetic principles for what would be termed bonsai, bonseki and garden architecture itself. At first, the Japanese used miniaturized trees grown in containers to decorate their homes and gardens.
Criticism of the interest in curiously twisted specimens of potted plants shows up in one chapter of the 243-chapter compilation Tsurezuregusa(c.1331). This work would become a sacred teaching handed down from master to student, through a limited
chain of poets (some famous), until it was at last widely published in the early 17th century. Before then, the criticism had only a modest influence on dwarf potted tree culture.
In 1351, dwarf trees were displayed on short poles as portrayed in the Boki Ekotoba scroll.[15] Several other scrolls and paintings also included depictions of these kinds of trees. Potted landscape arrangements made during the next hundred years or so included figurines after the Chinese fashion in order to add scale and theme. These miniatures would eventually beconsidered garnishes decidedly to be excluded by Japanese artists who were simplifying their creations in the spirit of Zen Buddhism.
The classic bonsai period: In Itami, Hyogo (near Osaka), a group of scholars of Chinese arts gathered in the early 19th century to discuss recent styles in the art of miniature trees. Their version of these, which had been previously called "Bunjin Ueki," "Bunjin Hachiue," or other terms, were renamed "bonsai" (the Japanese pronunciation of the Chinese term penzai). This term had the connotation of a shallower container in which the Japanese could now more successfully style small trees. The term "bonsai," however, would not become regularly used in describing their dwarf potted trees for nearly a century. Many others terms and compositions adopted by this group were derived from Kai-shi-en Gaden, the Japanese version of Jieziyuan Huazhuan.
In 1829, a significant book that first established classical bonsai art, Somoku Kinyo Shu (A Colourful Collection of Trees and Plants/Collection of tree leaves), was published. It includes the basic criteria for the ideal form of the classical pine bonsai, in detail and with illustrations. That same year, small tako-tsuki (octopus-styled) trees with long, wavy-branches began to be offered by a grower in Asakusa Park, a north-eastern Edo suburb. Within 20 years that neighbourhood became crowded with nurseries selling bonsai.The three-volume Kinsei-Jufu, possibly the first book of bonsai, tools, and pots, dates from 1833.
Numerous artists of the 19th century depicted dwarf potted trees in woodblock prints, including Yoshishige (who pictured each of the fifty-three classic stations of the Tokaido (road) as miniature landscape) and Kunisada (who included mostly hachi-no-ki in some four dozen prints). The earliest known photograph from Japan depicting a dwarf potted tree dates from c. 1861 by Pierre Rossier.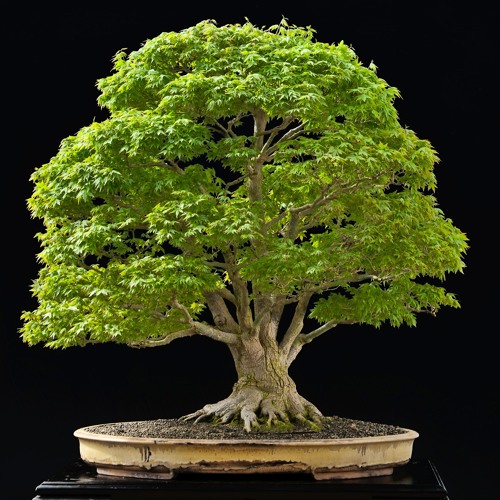 On October 13, 1868, the Meiji Emperor moved to his new capital in Tokyo. Bonsai were displayed both inside and outside Meiji Palace, where they have since remained important in affairs of the Palace. Bonsai placed in the grand setting of the Imperial Palace had to be "Giant Bonsai," large enough to fill the grand space. The Meiji Emperor encouraged interest in bonsai. Government officials who did not appreciate bonsai fell out of favour. Soon all members of the ministry had bonsai whether they liked the tradition or not. Prince Itoh was an exception: Any bonsai that the emperor gave him were then passed to Kijoji Itoh. Kijoji Itoh was a statesman of great influence behind the scenes, and a noted bonsai collector who conducted research and experiments on these bonsai.
Bonsai shaping aesthetics and techniques were becoming more sophisticated. By the late 1860s, thick combed and wetted hemp fibers were used to roughly shape the trunk and branches of miniature trees by pulling and tying them. The process was tedious and bothersome, and the final product was unsightly. Tips of branches would only be opened flat. Long, wavy-branched tako (octopus)-style trees were mass-produced and designed in the [renamed capital] Tokyo for the increasing foreign trade, while the more subtle and delicate bunjin-style trees designed in Kyoto and Osaka were for use in Japan. Tokyo preferred big trunks out of proportion and did not approve of Kyoto's finely-designed slender trunks. (This cultural rivalry would continue for a century.)
The 1923 Great Kanto Earthquake and resulting fire devastated Tokyo, and gutted the downtown area where many bonsai were grown. And so, two years later, a group of thirty families of downtown Tokyo professional growers established the Omiya Bonsai Village, northeast of the capital. The first great annual public exhibition of trees was held at the Asahi Newspaper Hall in Tokyo in 1927. The first of the very prestigious Kokufu-ten exhibitions were held in Tokyo's Ueno Park, beginning in 1934.  By the following year, tokonoma display principles allowed for bonsai to be shown for the tree's individual beauty, not just for its spiritual or symbolic significance.
Tool smith Masakuni I (1880–1950) helped design and produce the first steel tools specifically made for the developing requirements of bonsai styling.
By 1940, there were about 300 bonsai dealers in Tokyo, some 150 species of trees were being cultivated, and thousands of specimens annually were shipped to Europe and America. The first major book on the subject in English was published in the Japanese capital: Dwarf Trees (Bonsai) by Shinobu Nozaki (1895–1968). The first bonsai nurseries and clubs in the Americas were started by first and second-generation Japanese immigrants.
Caretaker of the Imperial bonsai collection, Kyuzo Murata (1902–1991), was one of very few persons allowed to take care of bonsai during the Pacific War. He gathered together and preserved many trees from the other Omiya growers and would water them under the protection of night. Throughout 1945, many old trees were the smallest casualties of the spring and summer napalm bombing of Tokyo (esp. March 9/10) and sixty-six other cities. Gardeners protected the Imperial collection trees.
from fire by pouring water over them after the Palace caught fire when neighboring areas were bombed on May 25/26. Following the surrender of Japan, there began the post-war re-evaluation and reviving of damaged collections of trees—including the Imperial—which would continue for over a decade as Japan was rebuilt. Many of the Omiya growers did not continue their vocation. During the Allied Occupation of Japan (through 1952) U.S. officers and their wives could take courses in bonsai, bonkei, ikebana, and other traditional arts and crafts as arranged by General MacArthur's headquarters. Many of the older and limited varieties of trees were no longer available, and the bonsai considered in fashion changed partly because of this shortage. Copper wire now largely replaced ordinary iron wire for shaping the better trees, but the latter still would be used for mass-produced commercial bonsai.
Raise of modern bonsai: Following World War II, a number of trends made the Japanese tradition of bonsai more and more accessible to Western and world audiences. One key trend was the increase in the number, scope, and prominence of bonsai exhibitions. For example, the Kokufu-ten bonsai displays reappeared in 1947 after a four-year cancellation and became annual affairs. The displays are by invitation only for eight days in February, and continue to this day. In October 1964, a great exhibition was held by the private Kokufu Bonsai Association, reorganized into the Nippon Bonsai Association, in Hibya Park to mark the Tokyo Olympics. A commemorative album Gems of Bonsai and Suiseki was published in Japanese and English. The largest (both in quantity and quality) of exhibitions are held in Japan.
A third trend was the increasing availability of expert bonsai training, at first only in Japan and then more widely. In 1967 the first group of Westerners studied at a Omiya nursery. Returning to the U.S., these people established the American Bonsai Society. Other groups and individuals from outside Asia then visited and studied at the various Japanese nurseries, occasionally even apprenticing under the masters. These visitors brought back to their local clubs the latest techniques and styles, which were then further disseminated. Japanese teachers also traveled widely, bringing hands-on bonsai expertise to all six continents.
By the beginning of the 1970s, these trends were beginning to merge. A large display of bonsai and Suiseki was held as part of Expo '70, and formal discussion was made of an international association of enthusiasts. Three monthly magazines were started this year: Bonsai Sekai,Satsuki Kenkyu, and Shizen to Bonsai. In 1975, first Gafu-ten (Elegant-Style Exhibit) of shohin bonsai (13-25 cm (9.84 in) (5–10 in) tall) was held. So was the first Sakufu-ten (Creative Bonsai Exhibit), the only event in which professional bonsai growers exhibit traditional trees under their own names rather than under the name of the owner. It was organized by Hideo Kato (1918–2001) at Daimaru Department Store in Tokyo.
The First World Bonsai Convention was held in Osaka during the World Bonsai and Suiseki Exhibition in 1980.  Nine years later, the first World Bonsai Convention was held in Omiya and the World Bonsai Friendship Federation (WBFF) was inaugurated. These conventions attracted several hundreds of participants from dozens of countries and have since been held every four years at different locations around the globe: 1993, Orlando, Florida; 1997, Seoul, Korea; 2001, Munich, Germany; 2005, Washington, D.C.; 2009, San Juan, Puerto Rico.
Bonsai has now definitively reached a world-wide audience. There are over twelve hundred books on bonsai and the related arts in at least twenty-six languages available in over ninety countries and territories. A few dozen magazines in over thirteen languages are in print. Several score of club newsletters are available on-line, and there are at least that many discussion forums and blogs. Educational videos and just the appearance of dwarf potted trees in films and on television reach a wide audience. There are at least a hundred thousand enthusiasts in some fifteen hundred clubs and associations worldwide, as well as over five million unassociated hobbyists. Plant material from every location is being trained into bonsai and displayed at local, regional, national, and international conventions and exhibitions for enthusiasts and the general public.
Cultivation and care: Bonsai cultivation and care requires techniques and tools that are specialized to support the growth and long-term maintenance of trees in small containers.
Availability of Bonsai materials: All bonsai start with a specimen of source material, a plant that the grower wishes to train into bonsai form. Bonsai practice is an unusual form of plant cultivation in that growth from seeds is rarely used to obtain source material. To display the characteristic aged appearance of a bonsai within a reasonable time, the source plant is often mature or at least partially grown when the bonsai creator begins work. Sources of bonsai material include:
Propagation from a source tree through cuttings or layering.
Nursery stock directly from a nursery, or from a garden centre or similar resale establishment.
Commercial bonsai growers, which, in general, sell mature specimens that display bonsai aesthetic qualities already.
Collecting suitable bonsai material in its original wild situation, successfully moving it, and replanting it in a container for development as bonsai. These trees are called Yamadori and are often the most expensive and prized of all Bonsai.
Techniques: The practice of bonsai development incorporates a number of techniques either unique to bonsai or, if used in other forms of cultivation, applied in unusual ways that are particularly suitable to the bonsai domain. These techniques include:
Leaf trimming, the selective removal of leaves (for most varieties of deciduous tree) or needles (for coniferous trees and some others) from a bonsai's trunk and branches.
Pruning the trunk, branches, and roots of the candidate tree.
Wiring branches and trunks allows the bonsai designer to create the desired general form and make detailed branch and leaf placements.
Clamping using mechanical devices for shaping trunks and branches.
Grafting new growing material (typically a bud, branch, or root) into a prepared area on the trunk or under the bark of the tree.
Defoliation, which can provide short-term dwarfing of foliage for certain deciduous species.
Deadwood bonsai techniques called jin and shari simulate age and maturity in a bonsai. (To be continued)