(Shyamsundara Turaga)
"Bitter melon is one of the best vegetable-fruit that helps improve diabetic and toxaemia conditions."The bitter melon (also known as bitter gourd) looks like a cucumber but with ugly gourd-like bumps all over it.  As the name implies, this vegetable is a melon that is bitter.  There are two varieties of this vegetable:  One grows to about 20 cm long, is oblong and pale green in colour.  The other is the smaller variety, less than 10 cm long, oval and has a darker green colour.
Both varieties have seeds that are white when unripe and that turn red when they are ripe.  The vegetable-fruit turn reddish-orange when ripe and becomes even bitterer. Bitter gourd thrives in hot and humid climates, so are commonly found in Asian countries and South America. Westerners may not be so used to bitter melons, so may find them more difficult to consume.   But if you can generally take bitter taste, you may be able to take this too.  Try it, at least for all its healthful virtues!
Nutritional Benefits: Bitter gourds are very low in calories but dense with precious nutrients.  It is an excellent source of vitamins B1, B2, and B3, C, magnesium, folic acid, zinc, phosphorus, manganese, and has high dietary fibre.  It is rich in iron, contains twice the beta-carotene of broccoli, twice the calcium of spinach, and twice the potassium of a banana. Bitter melon contains a unique phyto-constituent that has been confirmed to have a hypoglycaemic effect called charantin.  There is also another insulin-like compound known as polypeptide which has been suggested as insulin replacement in some diabetic patients.
Health Benefits: Few other fruits/vegetables offer medicinal properties for these ailments like bitter melon does.
Blood disorders:  Bitter gourd juice is highly beneficial for treating blood disorders like blood boils and itching due to toxaemia.  Mix 2 ounces of fresh bitter gourd juice with some lime juice.  Sip it slowly on an empty stomach daily for between four and six months and see improvement in your condition.
Cholera:  In early stages of cholera, take two teaspoonfuls juice of bitter gourd leaves, mix with two teaspoonfuls white onion juice and one teaspoonful lime juice.  Sip this concoction daily till you get well.
Diabetes mellitus:  Bitter melon contains a hypoglycaemic compound (plant insulin) that is highly beneficial in lowering sugar levels in blood and urine.  Bitter melon juice has been shown to significantly improve glucose tolerance without increasing blood insulin levels. Capsules are available for treating type II Diabetes marketed by Himalaya medicals.
Energy:  Regular consumption of bitter gourd juice has been proven to improve energy and stamina level.  Even sleeping patterns have shown to be improved and stabilized.
Eye problems:  The high beta-carotene and other properties in bitter gourd make it one of the finest vegetable-fruit that help alleviate eye problems and improving eyesight.
Hangover:  Bitter melon juice may be beneficial in the treatment of a hangover for its alcohol intoxication properties.  It also helps cleanse and repair and nourish liver problems due to alcohol consumption.
Immune booster:  This bitter juice can also help to build your immune system and increase your body's resistance against infection.
Piles:  Mix three teaspoonfuls of juice from bitter melon leaves with a glassful of buttermilk. Take this every morning on empty stomach for about a month and see an improvement to your condition.  To hasten the healing, use the paste of the roots of bitter melon plant and apply over the piles.
Psoriasis:  Regular consumption of this bitter juice has also been known to improve psoriasis condition and other fungal infections like ring-worm and athletes feet.
Respiratory disorders:  Take two ounces of fresh bitter melon juice and mix with a cup of honey diluted in water.  Drink daily to improve asthma, bronchitis and pharyngitis.  Toxaemia:  Bitter gourd contains beneficial properties that cleanse the blood from toxins.  Sip two teaspoonfuls of the juice daily to help cleanse the liver.  It is also helpful in ridding jaundice for the same reasons.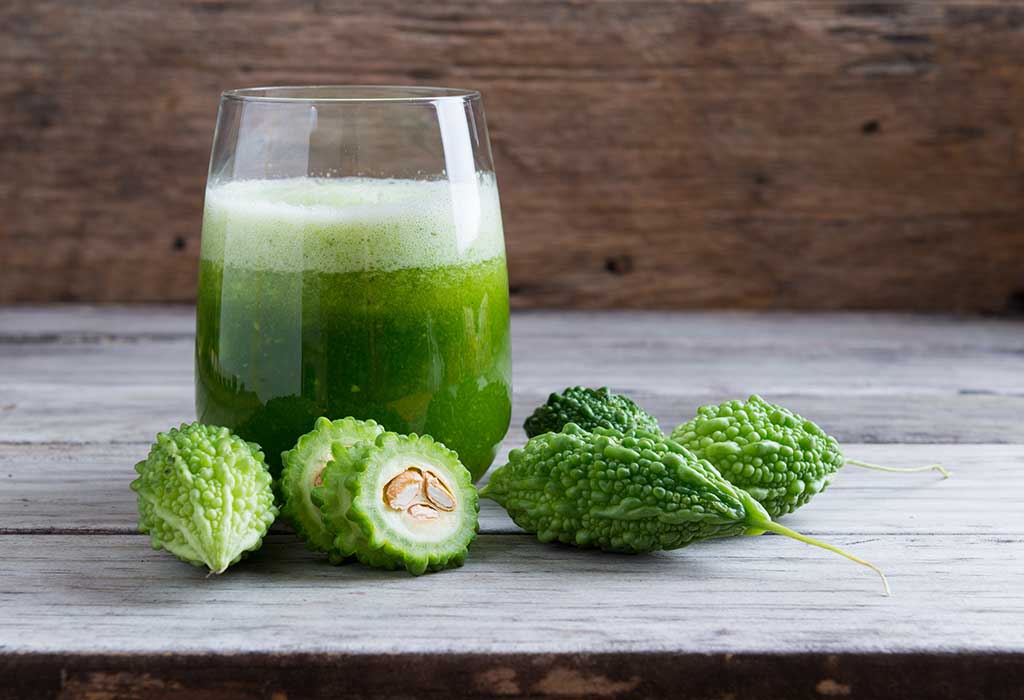 Consumption Tips: Choose unripe bitter melons that are firm, like how you would a cucumber.  Avoid those that have turned orange or have soft spots.  Ripe bitter melons can be excessively bitter. It is advised to store bitter melons in the vegetable bin of the refrigerator which has the right temperature to preserve.  It should keep for three to four days. Keeping bitter melons at room temperature or with other fruits and vegetables will hasten the melon to ripen and become bitterer, due to the emission of ethylene gas. Clean your bitter melon under cold running water and brush with a soft vegetable brush.  To prepare, slice the melon length-wise and scoop out the seeds.  To lessen the bitter flavour, soak it in salt water for about half an hour before juicing/cooking. The smaller variety is bitterer than the bigger one.  To help make bitter gourd juice more palatable, take it with honey, or add carrot or apple juice.  For diabetics, drink the juice with green apple juice.
Caution: Do not consume more than two ounces of bitter melon, or more than two melons a day.  Excessive consumption may cause mild abdominal pain or diarrhoea.  Diabetics taking hypoglycaemic drugs will need to alter the dosage of their drugs if they consume bitter melon on a regular basis.  Please consult your doctor. Pregnant women should avoid taking too much bitter gourd or its juice as it may stimulate the uterus that may lead to preterm labour.
All about the bitter melon: Momordica charantia, called bitter melon or bitter gourd in English, is a tropical and subtropical vine of the family Cucurbitaceous, widely grown in Asia, Africa, and the Caribbean for its edible fruit, which is among the most bitter of all fruits. There are many varieties that differ substantially in the shape and bitterness of the fruit. This is a plant of the tropics, but its original native range is unknown.
Description: This herbaceous, tendril-bearing vine grows to 5 meters. It bears simple, alternate leaves 4–12 cm across, with 3–7 deeply separated lobes. Each plant bears separate yellow male and female flowers. In the Northern Hemisphere, flowering occurs during June to July and fruiting during September to November. The fruit has a distinct warty exterior and an oblong shape. It is hollow in cross-section, with a relatively thin layer of flesh surrounding a central seed cavity filled with large flat seeds and pith. The fruit is most often eaten green, or as it is beginning to turn yellow. At this stage, the fruit's flesh is crunchy and watery in texture, similar to cucumber, chayote or green bell pepper, but bitter. The skin is tender and edible. Seeds and pith appear white in unripe fruits; they are not intensely bitter and can be removed before cooking. As the fruit ripens, the flesh becomes tougher, bitterer, and too distasteful to eat. On the other hand, the pith becomes sweet and intensely red; it can be eaten uncooked in this state, and is a popular ingredient in some Southeast Asian salads. When the fruit is fully ripe it turns orange and mushy, and splits into segments which curl back dramatically to expose seeds covered in bright red pulp.
Varieties: Bitter melon comes in a variety of shapes and sizes. The China phenotype is 20–30 cm long, oblong with bluntly tapering ends and pale green in colour, with a gently undulating, warty surface. The bitter melon more typical of India has a narrower shape with pointed ends, and a surface covered with jagged, triangular "teeth" and ridges. It is green to white in colour. Between these two extremes is any number of intermediate forms. Some bear miniature fruit of only 6–10 cm in length, which may be served individually as stuffed vegetables. These miniature fruit are popular in India and elsewhere in Southeast Asia. Bitter Melon is also called as Bitter Gourd.
Culinary uses: Bitter melon is generally consumed cooked in the green or early yellowing stage. The young shoots and leaves of the bitter melon may also be eaten as greens. Bitter melon is often used in Chinese cooking for its bitter flavour, typically in stir-fries (often with pork and douche), soups, and also as tea. It has also been used in place of hops as the bittering ingredient in some Chinese beers. It is very popular throughout South Asia. In Northern India, it is often prepared with potatoes and served with yogurt on the side to offset the bitterness, or used in sabji.
In North Indian cuisine it is stuffed with spices and then cooked in oil. In Southern India it is used in the dishes thoran/thuvaran (mixed with grated coconut), theeyal (cooked with roasted coconut) and pachadi (which are considered a medicinal food for diabetics). Other popular recipes include preparations with curry, deep fried with peanuts or other ground nuts, and pachipulusu (కాకరకాయపచ్చిపులుసు), a soup with fried onions and other spices. In Tamil Nadu a special preparation in Brahmins' cuisine called 'pagarkaipitla' (பாகற்காய்பிட்லா) a kind of sour 'Koottu' (கூட்டு) variety is very popular. Also popular is ' kattupagarkkai' (கட்டுபாகற்காய்) a curry stuffed with onions, cooked lentil and grated coconut mix, tied with thread and fried in oil. In Pakistan and Bangladesh, bitter melon is often cooked with onions, redchilli powder, turmeric powder, salt, coriander powder, and a pinch of cumin seeds. Another dish in Pakistan calls for whole, unpeeled bitter melon to be boiled and then stuffed with cooked ground beef, served with hot tandoori bread, naan, chappati, or with khichri (a mixture of lentils and rice). Bitter melon is a significant ingredient in Okinawan cuisine, and is increasingly used in mainlandJapan. It is popularly credited with Okinawan life expectancies being higher than the already long Japanese ones.
In Indonesia, bitter melon is prepared in various dishes, such as gado-gado, and also stir fried, cooked in coconut milk, or steamed. In Vietnam, raw bitter melon slices consumed with dried meat floss and bitter melon soup with shrimp are popular dishes. Bitter melons stuffed with ground pork are served as a popular summer soup in the South. It is also used as the main ingredient of "stewed bitter melon". This dish is usually cooked for the Tết holiday, where its "bitter" name is taken as a reminder of the poor living conditions experienced in the past. In the Philippines, bitter melon may be stir-fried with ground beef and oyster sauce, or with eggs and diced tomato.
The dish pinakbet, popular in the Ilocos region of Luzon, consists mainly of bitter melons, eggplant, okra, string beans, tomatoes, lima beans, and other various regional vegetables altogether stewed with a little bagoong-based stock. In Nepal, bitter melon is prepared as a fresh pickle called achar. For this the bitter gourd is cut into cubes or slices and sautéed covered in oil and a sprinkle of water. When it is softened and reduced, it is minced in a mortar with a few cloves of garlic, salt and a red or green pepper. It is also sautéed to golden-brown, stuffed, or as a curry on its own or with potatoes.  In Trinidad and Tobago, bitter melons are usually sautéed with onion, garlic and scotch bonnet pepper until almost crisp.
Medicinal values: Bitter melon has been used in various Asian and African traditional medicine systems for a long time.[1][2][3] In Turkey it has been used as a folk remedy for a variety of ailments, particularly stomach complaints.[4][5] The fruit is broken up and soaked in either olive oil or honey.
Active ingredients: The plant contains several biologically active compounds, chiefly momordicin I and II, and cucurbitacin B.[6] The plants contains also several bioactive glycosides (including momordin, charantin, charantosides, goyaglycosides, momordicosides) and other terpenoid compounds (including momordicin-28, momordicinin, momordicilin, momoedenol, and momordol). It also contains cytotoxic (ribosome-inactivating) proteins such as momorcharin and momordin.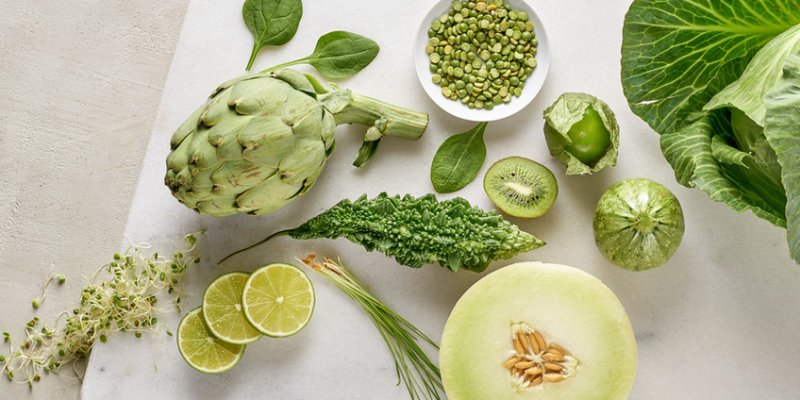 Antihelmintic:  Bitter melon is used as a folk medicine in Togo to treat gastrointestinal diseases, and extracts have shown activity in vitro against the nematode worm Caenorhabditis elegans.
Antimalarial: Bitter melon is traditionally regarded in Asia as useful for preventing and treating malaria. Tea from its leaves is used for this purpose also in Panama and Colombia. In Guyana, bitter melons are boiled and stir-fried with garlic and onions. This popular side dish known as corilla is served to prevent malaria. Laboratory studies have confirmed that species related to bitter melon have anti-malarial activity, though human studies have not yet been published.
Antiviral:  In Togo the plant is traditionally used against viral diseases such as chickenpox and measles. Tests with leaf extracts have shown in vitro activity against the herpes simplex type 1 virus, apparently due to unidentified compounds other than the momordicins. Laboratory tests suggest that compounds in bitter melon might be effective for treating HIV infection.[14] As most compounds isolated from bitter melon that impact HIV have either been proteins or lections, neither of which are well-absorbed, it is unlikely that oral intake of bitter melon will slow HIV in infected people. It is possible oral ingestion of bitter melon could offset negative effects of anti-HIV drugs, if a test tube study can be shown to be applicable to people.
Cardio protective: Studies in mice indicate that bitter melon seed may have a cardio protective effect by down-regulating the NF-κB inflammatory pathway.
Diabetes: In 1962, Lolitkar and Rao extracted from the plant a substance, which they called carnation, which had hypoglycaemic effect on normal and diabetic rabbits. Another principle, active only on diabetic rabbits, was isolated by Visarata and Ungsurungsie in 1981.Bitter melon has been found to increase insulin sensitivity.In 2007, a study by the Philippine Department of Health determined that a daily dose of 100 mg per kilogram of body weight is comparable to 2.5 mg/kg of the anti-diabetes drug glibenclamide taken twice per day. Tablets of bitter melon extract are sold in the Philippines as a food supplement and exported to many countries. Other compounds in bitter melon have been found to activate the AMPK, the protein that regulates glucose uptake (a process which is impaired in diabetics). Bitter melon also contains a lectin that has insulin-like activity due to its non-protein-specific linking together to insulin receptors. This lectin lowers blood glucose concentrations by acting on peripheral tissues and, similar to insulin's effects in the brain, suppressing appetite. This lectin is likely a major contributor to the hypoglycemic effect that develops after eating bitter melon.
Anticancer: Two compounds extracted from bitter melon, α-eleostearic acid (from seeds) and 15, 16-dihydroxy-α-eleostearic acid (from the fruit) have been found to induce apoptosis of leukaemia cells in vitro. Diets containing 0.01% bitter melon oil (0.006% as α-eleostearic acid) were found to prevent azoxymethane-induced colon carcinogenesis in rats. Researchers at Saint Louis University claim that an extract from bitter melon, commonly eaten and known as karela in India, causes a chain of events which helps to kill breast cancer cells and prevents them from multiplying.
Other uses: Bitter melon has been used in traditional medicine for several other ailments, including dysentery, colic, fevers, burns, painful menstruation, scabies and other skin problems. It has also been used as abortifacient, for birth control, and to help childbirth.
Cautions: The seeds of bitter melon contain vaccine and therefore can trigger symptoms of fauvism in susceptible individuals. In addition, the red arils of the seeds are reported to be toxic to children, and the fruit is contraindicated during pregnancy