(Brig (retd) GB Reddi)
Modi-led NDA government has finally acted against erring farmers after giving a long rope. Of course, only after the mayhem created in the national capital and later at the Red Fort.
Amit Shah, the Home Minister, has shown the spine to act tough against the agitating farmers unions violating the agreement reached to conduct tractor rally in peaceful manner on the three designated routes. Never too late for the Home Ministry to plug all loop holes on the Indo-Pak and Nepal borders to prevent rogue elements to escape to safe havens.
As per Media reports, the Delhi police, acting upon the Home Minister's directive, have booked almost all the agitating farmers Unions leaders and framed sedition charges, while their arrests may follow.  This was in the wake of public outcry warning the Centre that any delay may be construed just as a ploy for dilution and it bound to result in crisis escalation instead of crisis resolution.
Now, Delhi Police, who showed utmost restraint and on their part (without looking over their shoulders), must not only file just charge sheets against all the accused in the Courts, but seek non-bailable arrest warrants against them. Time is running out for the Delhi Police to act.
Or else, all these anarchists/seditionists who are already on the run like Actor Dileep Sidhu and Gangster turned politician Lakbir Singh Sidhana alias Lakha Sidhana, President of the Malwa Youth Federation and other key leaders sponsored by state and non-state across the border may flee the country to safe havens in Pakistan, Canada, Australia, UK etc.
As of now, some among them may still seeking refuge in Gurudwaras in Delhi, Punjab, Haryana, and Rajasthan and UP.  State Police Forces in close co-operation and collaboration with each other must flush out all those hiding in safe havens expeditiously lest they become major sources of threat concerns – ala Bhindrenwala's.
Why Delhi Police Only?  I dare challenge Amarinder Sigh, the Chief Minister of Punjab, to arrest Actor Deep Sidhu, Lakbir Singh Sidhana, and Joginder Singh Ugrahan and file charge sheets against them.  Similarly, Manohar Lal Khattar, Chief Minister of Haryana, and Yogi Adityanath of UP must direct their DGPs to arrest leaders of their respective farmers groups.
No need to apportion the blame on intelligence failure later.
Impound all the tractors that were seen charging against the police personnel on all sites.
Most importantly, it is also vital to identify the sources of disinformation spread through twitter handlers and their sleeper cells, partisan fake and fraud visual, print and social media networks and file chargesheets against them inciting protestors to indulge in violence and arson.
Furthermore, even FIRs and charge sheets against the media anchors that have been slyly providing partisan sound bites must be considered under the "incitement and abetment".  The roles played by Barkha Dutt, Rajdeep Sardesai, Bhupendra Chaubey and others must be filed after legal evaluation. No media barons should be allowed to seek refuge under the "Freedom of Press" label.   After all, freedom must be exercised with a sense of responsibility in pursuit of peace, prosperity and national interests and security.
Similarly, the Supreme Court and the Bar Association must initiate suo motto notice against those lawyers who represented the Farmer's Groups and assured "Peaceful Protests".
The Delhi Police should take a cue from the non-bailable arrest of poet-activist Varavara Rao, arrested in the case of the Elgar-Parishad-Maoist link, and others languishing in jails. No pity should be shown against seditionists like Actor Deep Sidhu and Lakbir Singh Sidhana alias Lakha Sidhana, gangster-turned-politician and president of the Malwa Youth Federation.
Most important, impose curfew  at the protesting sites on the Delhi borders and evict all the farmers protesting groups without fear and favor by respective State police forces.
There is enough evidence of inciting/instigating and criminal conspiracy that preceded rioting, violence and attempt to murder covered by visual media showing pre-planned objective of not following the mutually agreed routes and timings to file the charge sheets.
If there is delay, both Modi-led NDA government and the Delhi Police will be seen as spineless and weak-kneed institutions incapable of maintaining law and order.
No point in claiming filing of 25 FIRs against Farmer Protest leaders or arresting a handful of activists who indulged in mayhem.
No point in the BJP spokespersons blaming Rahul Ghandy for instigating the violence.  Instead, Modi-led NDA government must direct Delhi Police to arrest Rahul Ghandy and produce him before the Court for judicial verdict. Furthermore, the role of the AAP needs to be thoroughly investigated and actions initiated.
De facto, names of all leaders of Farmer's organization protesting for over 65 days on the outskirts of Delhi borders are available in public domain. All of the must be arrested by the Delhi Police.
If the leaders of protesting groups have fled to their respective states, then the onus of responsibility for arresting them falls on the concerned States.
List of names include: 1) Actor Deep Sidhu; 2) Lakbir Singh Sidhana alias Lakha Sidhana, gangster-turned-politician and president of the Malwa Youth Federation; 3) BKU (Rajewal) president Balbir Singh Rajewal; 4) BKU (Tikait) chief Rakesh Tikait; 5) Darshan Pal, president, Krantikari Kisan Union; 6)  Swaraj India leader Yogendra Yadav; 7)  Satnam Singh Pannu, president of Kisan Mazdoor Sangharsh Committee; 8) Joginder Singh Ugrahan, president of BKU (Ugrahan); 9) Sarvan Singh Pandher, general secretary of Kisan Mazdoor Sangharsh Committee; 10) VM Singh of Rashtriya Kisan Mazdoor Sangathan; 11) Bhanu Pratap Singh of BKU (Bhanu); 12) Jagjit Singh Dallewal, president, BKU (Sidhupur); 13) Balbir Singh Rajewal, president, BKU (Rajewal); 14) Kulwant Singh Sandhu, general secretary, Jamhoori Kisan Sabha; 15) Boota Singh Burjgill, president, BKU Dakaunda; 16) Nirbhai Singh Dhudike, president, Kirti Kisan Union; 17) Ruldu Singh Mansa, president, Punjab Kisan Union; 18) Inderjit Singh, president, Kisan Sangharsh Committee; 19) Harjinder Singh Tanda, president, Azad Kisan Sangharsh Committee, Punjab; 20) Gurbaksh Singh, president, Jai Kisan Andolan; 21) Kanwalpreet Singh Pannu, president, Kisan Sanghrash Committee; 22) Surjit Singh Phool, president, BKU Krantikari; 23) Harmeet Singh Kadian, president, BKU Kadian; 24) Satnam Singh Sahni, general secretary, BKU (Doaba); 25) Bogh Singh Mansa, president, BKU (Mansa); 26) Balwinder Singh Aulakh, president, Majha Kisan Committee; 27) Satnam Singh Behru, president, Indian Farmers Association; 28) Bharat Boota Singh Shadipur, president, Bharti Kisan Manch; 29) Baldev Singh Sirsa, president, Lok Bhalai Insaaf Welfare Society; 30) Jagbir Singh Tanda, president, Doaba Kisan Samiti; 31) Mukesh Chandra, Doaba Kisan Sangharsh Committee; 32) Sukhpal Singh Daffar, president, Ganna Sangharsh Committee; 33) Harinder Singh Lakhowal, general secretary, BKU Lakhowal; 34) Kirpal Singh Nathuwala, president, Kisan Bachao Morcha; 36) Prem Singh Bhangu, president, All India Kisan Federation, Punjab unit; 37) Gurnam Singh Chaduni, president, BKU Haryana; 38) Kavita Kuruganti, Mahila Kisan Adhikaar Manch; 39) Rishipal Ambavatta, president, BKU Ambavatta; 40) Prem Singh Gehlot, president, All India Kisan Mahasabha, Haryana Unit; 41) Medha Patkar; 42) Avik Saha.
The role of protesting leaders like Kulwant Singh Sandhu, Jamhoori Kisan Sabha, said Nirbhai Singh Dhudhike, Kirti Kisan Union, Ruldu Singh, Punjab Kisan Union, Balwinder Singh Aulakh, Majha Kisan Committee, Satnam Singh Behru, Indian Farmer's Association, and few others, who condemned the violence and claims to have not crossed the border, must be investigated and verified before filing FIRs/Charge Sheets.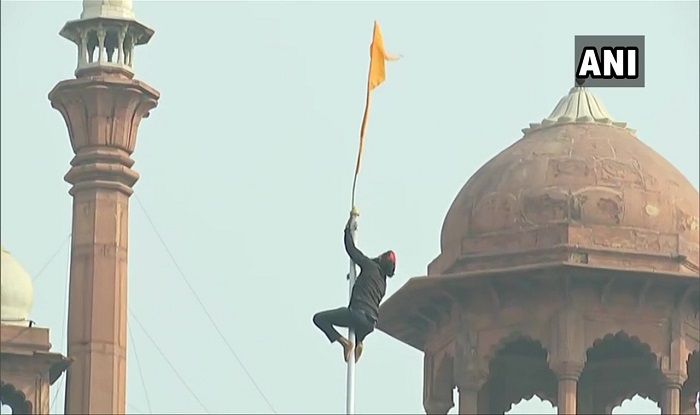 In sum, enough of appearing as "Soft State" or "Fledgling Democracy"! Politically, table the "Bill of Amendments" agreed upon with "Farmer Union Leaders" and pass them on the first day after tabling of the Budget in the Parliament or send it to the Select Committee. Anyway, the Tomar, Minister of Agriculture, has already announced willingness to keep the Laws under suspension ofr 2-years.
Even Modi-led NDA government must uphold the right of the States to enact their own laws and implement them since "Agriculture" is a State Subject under the Constitution. For, sans reforms, the farmers of the confrontationist States would suffer in times to come under the stranglehold of "Rich Farmers and Atreyas".
Police must promptly initiate actions against all the violence provocateurs with utter disregard to their political status or clout and file the charge sheets in the Courts of Law.
If considered absolutely necessary, even the NIA must carry out in depth investigation into the foreign funding sources and the protesting farmer group recipients and file charge sheets in designated courts.
Otherwise, violence eruption, aided and abetted by foreign non-state and state actors is bound to result in absolute chaos and anarchy.