(Brig (retd) GB Reddy)
Who is responsible and accountable for the delay in delivering the verdict of Robert Vadra's "Disproportionate Assets" case?
Majority are aware of the rags to riches story of Robert Vadra, husband of Priyanka Ghandy Vadra and Son-in-Law of Sonia Ghandy.
Quite ironic to see Robert Vadra going around Hindu Temples now to demonstrate his secular credentials! What a fraud it is on pliable people of India?
What is more absurd is Robert Vadra and family continues to live in government accommodation at insignificant rental with security staff provided at tax payers cost.
Why is Arvind Kejriwal, so called messiah of corruption, and the AAP maintaining 'stoic' silence over the issue?
Of course, if the verdict – either way – has not been delivered, the fault lies at the door step of Modi and the BJP besides the Income Tax and all other investigative agencies to act expeditiously.
During UPA's rule, the then PMO rejected the Lucknow-based RTI activist Nutan Thakur's writ petition in the past before the Lucknow bench of Allahabad high court seeking probe into the allegations of irregular land dealings against Vadra. In the first instance, the PMO invoked "private' individual as the reason. Later, the PMO refused by stating that they are "confidential". The UPA's replies smack of deception, duplicity and hoodwinking.
If there is anyone who should clear his name from acquiring "Disproportionate Assets" beyond the known income sources, it is Robert Vadra. Let none nurture any illusions on the above count.
How can a "Brassware dealer" of Janpath road-side shop become a billionaire without indulging in illegal business transactions either in land deals or sale of precious antiques to foreign nations?
From a small company called Artex, specialising in artificial jewellery and handicraft exports, the transformation into a business conglomerate within a span of 3-5 years surely raises many eyebrows.
Let me briefly recount Vadra' family lineage. Unfortunate that Robert Vadra family background does not present a clean image. The family background of Robert Vadra as it features 'Google Search" provides a none too appreciative picture.
Robert Vadra was born on 18 April 1969 to Rajendra and Maureen who was of Scottish origin (her maiden name was McDonagh). Rajendra's family was originally from Sialkot, Pakistan. His father migrated from Sialkot, Pakistan at the time of partition and took up residence in Civil Lines area of Moradabad and ran a brass and wood handicrafts business. Later, Rajinder separated from his wife, Maureen, is an exporter of metal handicrafts and operates from Amar Colony.
Robert Vadra married Priyanka Gandhi in 1997 and became son-in-law of Sonia Gandhi – the first family of the Congress Party. It is interesting to note that Vadra's father had "expressed displeasure" with Robert's marriage with Priyanka Gandhi. Robert had also two siblings, Richard and Michelle. While Robert was the proprietor of Artex Exports, through which he sold costume jewellery. Richard ran an independent export business. Robert's sister Michelle died in a car accident in April 2001.
In 2003, Richard Vadra, estranged brother of Robert Vadra, reportedly committed suicide in Moradabad. Rajendra Vadra, reportedly died of a heart attack in 2009 although police officials had reported that Rajendra allegedly committed suicide by hanging himself in Room Number 6 of a guesthouse in Yusuf Sarai.
Robert Vadra issued a public notice in 2001, stating that his father, Rajender, and brother, Richard, were "duping" people by promising jobs at the Uttar Pradesh Congress Committee and other favours. Rajendra threatened to file a defamation suit against his son. In January 2002, Robert Vadra placed ads in newspapers, declaring that he had nothing to do with his father, Rajinder, and brother, Richard, and that any attempts by them to gain favours by pretending to act on his behalf should be disregarded.
The Congress directed all its CMs, PCC bosses and CLP leaders to let it be known to "one and all" that Robert Vadra had severed ties with his father and brother, and "no favour sought by them in Robert's name should be entertained."
The method adopted to rise from 'rags to riches' appear simple. Robert received unsecured loans, free of interest, from DLF Limited, India's largest real estate conglomerate, which was used by him to buy back properties grossly undervalued from the DLF.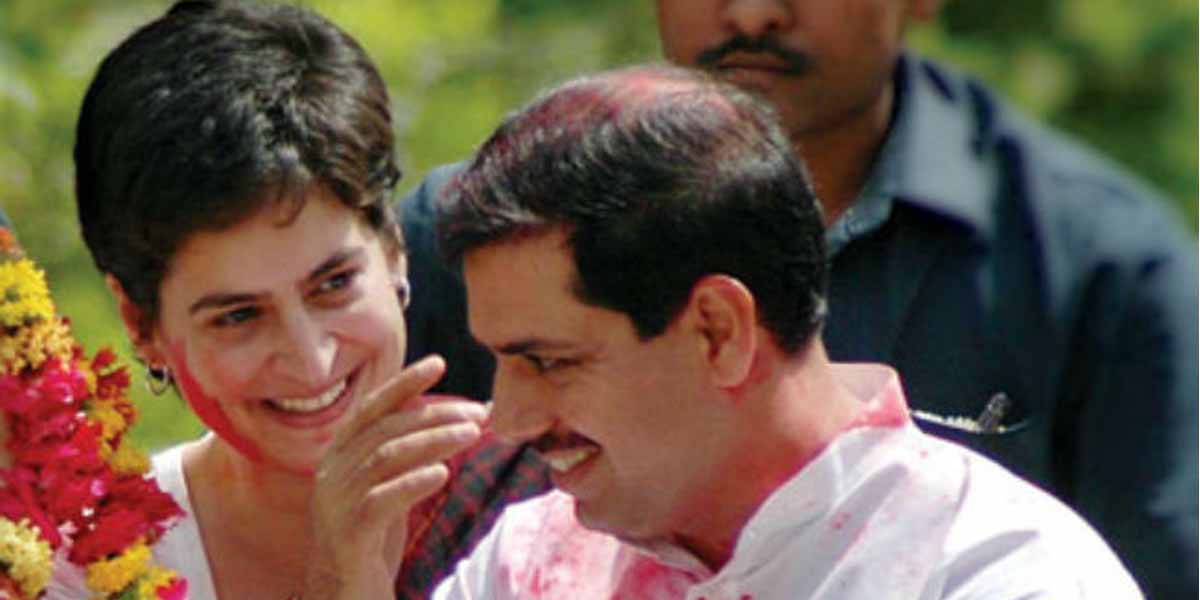 Vadra floated a number of companies, some of which have received unsecured loans from the DLF group companies, the Bombay Stock Exchange-listed flagship DLF Ltd.
DLF's generous loans to Vadra companies, some without collateral, include:
– As on March 2009, Sky Light Hospitality had received unsecured loans amounting to Rs 25 crore from DLF Ltd.
– As on March 2010, only Rs 10 crore remained. It was unclear from the statement of accounts if the rest was paid back or written off.
– Sky Light Hospitality in turn loaned money to other Vadra-owned companies such as Blue Breeze Trading Pvt. Ltd, North India IT Parks Pvt. Ltd, Real Earth Estates Pvt. Ltd and Sky Light Realty Pvt. Ltd.
Let me reiterate that Robert Vadra's business conglomerate includes: Sky Light Hospitality Pvt Ltd (owned by Vadra and his mother Maureen Vadra), which is a partner in a firm that owns Hilton Garden Inn in the South Delhi business district Saket; Blue Breeze Trading Pvt Ltd (aircraft chartering) with 4 aircraft; North India IT Parks Pvt Ltd; Real Earth Estates Pvt Ltd; and Sky Light Realty Pvt Ltd. As per latest media reports, there are another six companies registered by him.
Robert Vadra's entry into the real estate business has been accompanied by a partnership with the country's largest realty firm, DLF Ltd, a staggering feat by any standards (The Economic Times, 14 March 2011). Hitherto known for the export of faux jewellery and handicrafts, the 42-year-old Vadra quietly switched lanes in 2008, buying up land in Haryana and Rajasthan, a 50% stake in a leading business hotel in Delhi, and attempting to enter the business of chartering aircraft, a quantum jump that certainly merits an explanation."
As per DLF spokespersons, all deals have been reflected in their books. However, what remains unanswered by DLF is simple. How can a company with thousands of crores of loans outstanding to banks and other financial institutions give unsecured loans free of interest? It should baffle every one.
Whispers about the financial rise and rise of Robert Vadra have been doing the rounds for some years, escalating during the Commonwealth Games, but there was no independent corroboration of the same.
"Loot and Scoot" is the biggest national security threat. None should have any doubts on the above score. Surely, the PMO should rise to the occasion and furnish the details to the RTI activist.
Why has Modi and the BJP down played the issue during the last 4-year rule? Is it due covert proximity of some top leaders with the Congress and Sonia Gandhi in particular?
Politicization now without decisively acting against Vadra would only backfire on Modi's image not as a strong leader; but a weak leader.
Unfortunately, even the Supreme Could has not taken suo motto notice and order STF to carry out investigation.