Moscow: There are far too many football games these days that are either the end of an era or the beginning of a new dawn.
There will likely be a number of accounts depicting Russia's 5-0 demolition of Saudi Arabia as the spark that will ignite a fire in the barren ovens of Russian football, a harbinger of a future that will reflect the glorious past, of Lev Yashin's Soviet team that won an Olympic gold and came within two matches of winning a World Cup. This is probably not that.
After pulling apart all those threads of emotion, the story of the 2018 World Cup opener at the Luzhniki Stadium was that of how inadequate Saudi Arabia was.
There was a moment late on when a Saudi Arabian defender's first touch converted what should have been a routine interception and clearance into a corner for the Russians, that should just how bad the visitors were. Their performance was not one that belonged on this stage.
That is to not say the Russians deserve no credit. Their strategy of entrusting the Saudi players with the ball, knowing fully well that possession in the hands of those who don't know what to do with it can be counterproductive, worked to perfection.
The game finished with Saudi Arabia having 59 per cent of possession but that was all they had. The visitors were repeatedly hit with waves of Russian counterattacks after losing the ball far too cheaply. They played a five-man midfield that looked horribly out of balance — not one of them looked capable of playing a holding role.
For Russia, there were tales of redemption all over the pitch. There was the much-maligned coach Stanislav Cherchesov who admitted in the post-match press conference that the first person to call and congratulate him was the Russian president himself. That three of the five goals were scored by substitutes should not go overlooked.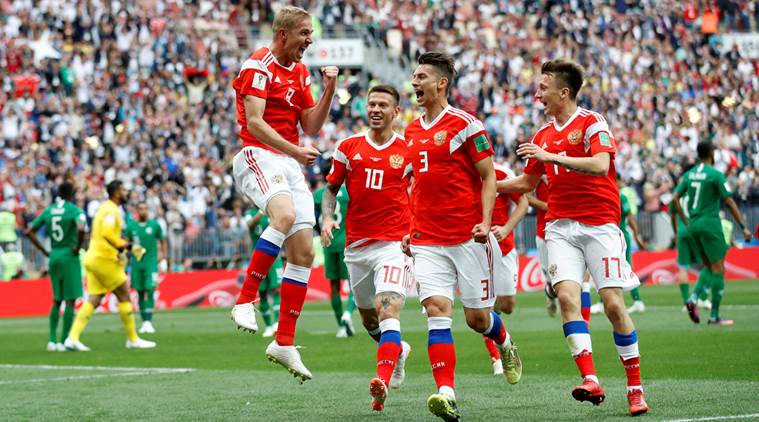 There was the two-goal hero Denis Cheryshev, who left home at 12 to join Real Madrid and was on the cusp of breaking into their first team before injuries derailed his career. If his first was a smart finish, his second was an utter delight, struck with the outside of his left boot and destined for nowhere but the top corner.
And while he wasn't redeeming himself as much as he was justifying the hype around him, 22-year-old Aleksandr Golovin was probably the best player on the pitch.
Perhaps, this is a one-off result. Perhaps Russia will look every bit the 70th ranked team in the world against Egypt and Uruguay. But maybe that doesn't matter. The Luzhniki was a surreal place when seventy thousand Russians belted their brilliantly composed national anthem.
The roar that greeted Iury Gazinsky's opener would have done justice to a Messi or Neymar goal. Around the half-hour mark, when Golovin went down in the area and nothing was given, Russian fans had found enough fire in their bellies to scream at the referee. As the game approached half-time, the stadium was reverberating with chants of 'Ra-si-ya!' and those were still going when everyone excited happy.