(Brig (retd) GB Reddi)
People may face to make a choice between BJP, Congress Party and the fledgling Federal Front in making in the 2019 elections.
Political stability is most critical from national security interests. Prospects for political leaders to promote and consolidate national security interests appear bleak considering acrimonious allegations leveled against each other on sensitive communal and caste issues.
However, it is also naive to underestimate people's intellect to deliver a decisive verdict on the national interests count.
One week is too long a period in Indian politics. A single event can dramatically alter people's moods and preferences.
No need for external enemies; warring political parties and their leaders are good enough for the downfall of modern India, if people allow them to take them for a free ride. Wake up people of India! Banish the pretenders masquerading as leaders protecting national security interests.
Ipso facto, people know the outcomes of "kichidi governments" in the past with outside support extended by the Congress Party in the past.
Ideological differences, personal egos and ambitions have been the root cause for dismal failure of "coalition' party governments in the past.
For example, Morarji Desai, Janata Party led government experiment was short lived – 24 March 1977 – 28 July 1979) due to personal friction. In 1979, Raj Narain and Charan Singh pulled out of the Janata Party, forcing Desai to resign from office and retire from politics. The chief reason for the collapse was the demand by the duo and other left leaning members like Madhu Limaye, Krishan Kant and George Fernandes that no member of the Janata party could simultaneously be a member of an alternative social or political organization.
Next, Chaudhry Charan Singh served as the Prime Minister slightly less than one year from 28 July 1979 until 14 January 1980. However, he resigned when Indira Gandhi's Congress Party withdrew support to the government because he was not ready to be blackmailed into withdrawing Indira Gandhi's emergency-related court cases.
Also, VP Singh, the National Front with electoral understanding of the BJP and the two Left Parties, resigned on 7 November 1990 over the Ram Janma Bhoomi issue.
Even, Chandra Shekhar, known as the Young Turk, also former President of Janata Party and Janata Dal (Secular), who  left the Janata Dal with mere 64 MPs, also became the Prime Minister with support from the Congress Party of Rajiv Ghandy,  and lasted for a few months (barely for 8 months) after the later withdrew support.
HD Deve Gowda served as the 11th Prime Minister of India from 1 June 1996 to 21 April 1997, when the United Front (a conglomeration of non-Congress and non-BJP regional parties) decided to form the Government at the Centre with the support of the Congress,
Gujral, originally member of the Congress party in the 1980s, who later joined the Janata Dal, and the United Front, became the Prime Minister when the Deve Gowda government collapsed with the Congress Party support. The United Front elected Gujral as their new consensus leader and he was sworn in as Prime Minister on 21 April 1997 with the support from the Congress Party. Over the issue of action against Laloo Prasad Yadav and other RJD members, Gujral too made the way out.
Finally, A B Vajpayee of the BJP stint as the Prime Minister includes: 13 days in 1996 with BJP as the single largest party; 13 months in 1998-1999 when the AIADMK under Jayalalitha withdrew support; and the full term after 1999 elections.
In sum, the lesson of "Kichidi or coalition" governments is quite clear – political instability resulting in non-governance.
More importantly, the unethical quest of regional political party leaders for power sharing and 'arms twisting'.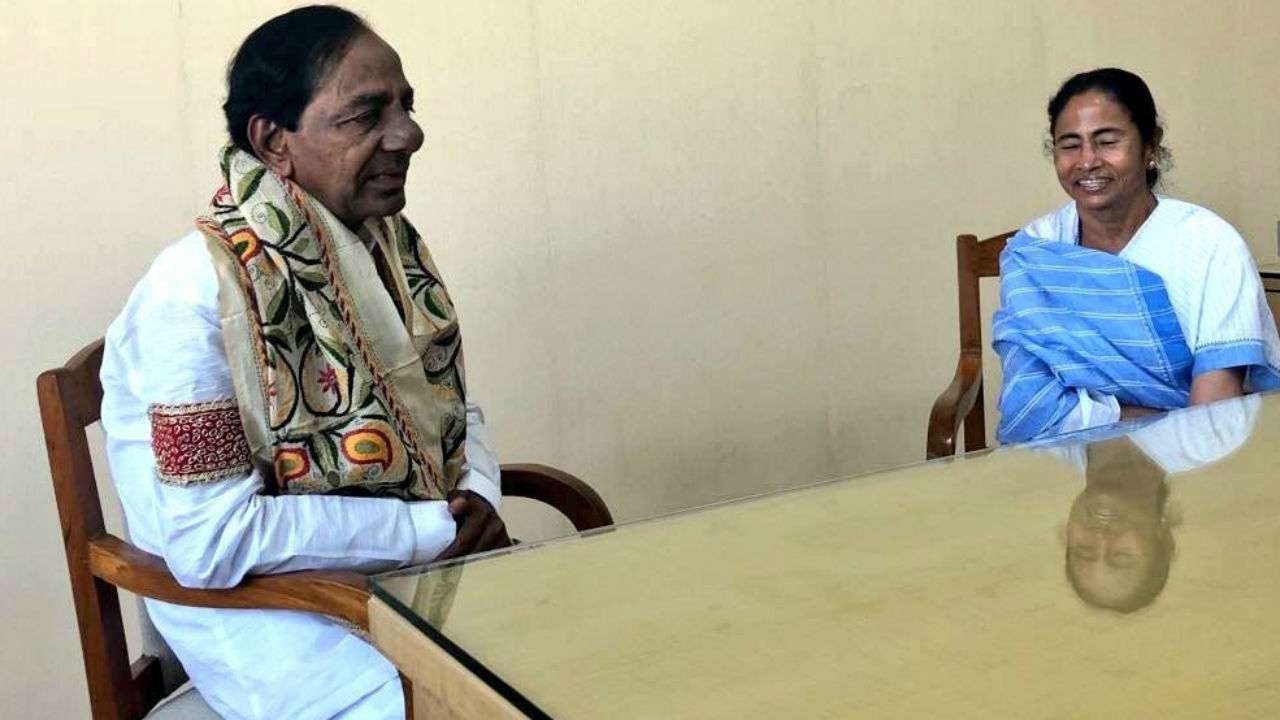 Given the above highly opportunistic and individualistic manipulations of political parties and leaders, will aspirational people of modern India again vote in favor of political instability? Any sane thinking political analysts, particularly those national security strategy analysts, will certainly voice their angst against such developments.
Viewed in the above framework, the latest attempt by Telangana Rashtra Samiti (TRS) president and Chief Minister K. Chandrasekhar Rao (KCR) claims to "create ripples by leading the federal front as an alternative to the BJP and Congress in national politics" and "I will free the country from the clutches of the BJP and the Congress. I will trigger an earthquake with Hyderabad as epicenter. We will hoist the flag of self-respect of the country from Telangana," will be viewed with alarm.
KCR has coined the slogan "Har kisan ko pani, har acre ko pani (water for every farmer, every acre)."
The country has a potential to generate 70,000 tmc ft of water, of which 65,500 tmc ft was by natural flow in river basins. KCR said the TRS would show the path of development to the country in the same spirit as it struggled for statehood to Telangana.
KCR has already met Trinamool Congress president and West Bengal Chief Minister Mamata Banerjee and Janata Dal (Secular) president and former Prime Minister H.D. Deve Gowda, in Kolkata and Bengaluru respectively.
As per the latest reports, KCR has met Karunanidhi's and Stalin, leaders of DMK at Chennai to discuss the issue of formation of "Federal Front" alliance.
As per his schedules, he will be meeting Akhilesh Yadav at Hyderabad on 2 May 2018. Following it, KCR is scheduled to meet Odisha Chief Minister and Biju Janata Dal president Naveen Patnaik.
Assuring that the Federal Front would work with a true federal spirit, he criticized the Centre for including key subjects as agriculture, education, health, rural and urban development and drinking water in the Concurrent List with the sole aim to control State governments.
Meanwhile not to be left behind, Andhra Pradesh Chief Minister N. Chandrababu Naidu, in apparent challenge to the BJP, has asserted "Give me 25 Lok Sabha seats, and we will decide who should be the Prime Minister. And it is going to happen," he said addressing a press conference.
Is Arvind Kejriwal too in on board the "Federal Front? Both NCN and KCR have met him in Delhi. Will NCP and Sharad Pawar abandon the Congress Party and join the "Federal Front"! What about others like PDP, Shiv Sena, and Akali Dal and so on?
Who will be the King of Federal Front; who will remain King-makers and for how long?
Due to oft repeated anti-Modi and the BJP venom spewed in the "Visual Media" and also on the 'social media network besides tweets, polarization on communal lines – we and they – is paving the way for rebirth of "Kichidi or coalition" government sans ideological convergence except for capturing power by 'hook or crook'.
As one analyst stated in the media "What RSS and Mohan Bhagwat attempted and achieved during the past 70 years, polarization today is suddenly accelerating and consolidating rapidly."
Ipso facto, mudslinging by political leaders and parties is contra social unity, harmony and integrity considering India's diversity and pluralist society.
Also, social justice is a virtual impossibility. With scarce resources due to loot and scoot over the past 70 years, narrow and parochial sectarian discrimination, bankrupt leadership and dismal governance, anyone promising jobs, particularly government jobs, and prosperity is simply lying. Its fallout is simple – extrapolating social violence.
The aspirational modern India wants to protect his own and his groups interests. With no sign appearing on the horizon to control population explosion and migrations – legal and illegal – the crescendo of bizarre politics in India are bond to exacerbate violence.
Serious concern for all those claiming to be patriots and nationalists is simple. Is the Federal Front going to plunge the society and the nation all over again into abyss of chaos and anarchy? How to stem such a rot?